Steel grade
EN10219-1

Minimum yield
strength

 ReH
(t≤16mm)
N/mm²

Minimum yield
strength

 ReH
(16≤t≤40mm)
 N/mm²

Minimum ultimate
tensile strength

Rm
 (3≤t≤40mm)
N/mm²

Minimum
elongation


(t≤40mm)
%

Chemical composition (% max)



C



Mn



P



S



Si



N



CEV
(t≤20mm)

S 235 JRH

235

225

340-470

24

0.17

1.40

0.045

0.045

-

0.009

0.35

S 275 JOH

275

265

410-560

20

0.20

1.50

0.040

0.040

-

0.009

0.40

S 355 JOH

355

345

490-630

20

0.22

1.60

0.040

0.040

0.55

0.009

0.45

S 420 MH

420

400

500-660

19

0.16

1.70

0.035

0.030

0.50

0.020

0.43

S 460 MH

460

440

530-720

17

0.16

1.70

0.035

0.030

0.60

0.025

-

Steel grade
API 5L①
ISO 3183

Minimum yield strength
ReH
N/mm²

Minimum tensile strength
Rm
N/mm²

Minimum elongation②

%

Chemical composition for PSL 1 pipe with t≤25.0mm④
(% max)

C③

Mn③

P

S

L 245 or B 

245

415

23

0.26

1.20

0.030

0.030

L 290 or X42

290

415

23

0.26

1.30

0.030

0.030

L 320 or X46

320

435

22

0.26

1.40

0.030

0.030

L 360 or X52

360

460

21

0.26

1.40

0.030

0.030

L 390 or X56

390

490

19

0.26

1.40

0.030

0.030

L 415 or X60

415

520

18

0.26⑤

1.40⑤

0.030

0.030

L 450 or X65

450

535

18

0.26⑤

1.45⑤

0.030

0.030

L 485 or X70

485

570

17

0.26⑤

1.65⑤

0.030

0.030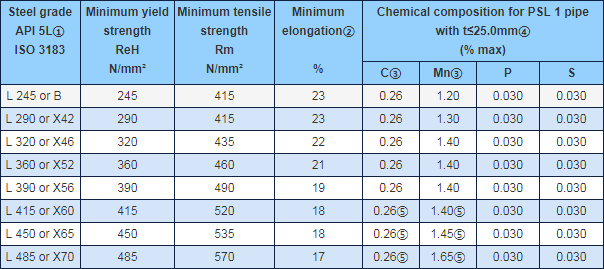 ① API 5L (2007):American Petroleum Institute / ISO 3183 (2007). PSL: Product Specification Level.
② Minimum elongation:depends on tensile test piece cross-sectional area.
③ For each reduction of 0.01% below the specified max C concentration, an increase of 0.05% above the specified max Mn concentration is permissible, up to a max of 1.65% for grades L245/B to L360/X52, 1.75% for L390/x56 to L450/x65 and 2.00% for L485/x70.
④ 0.5% max for Cu,0.50% max for Ni, 0.50% max for Cr, 0.15% max for Mb.
⑤ Unless otherwise agreed.